I am SO happy to report that I succeeded in ALL of my
goals for last week
! I woke up a little earlier every day (and actually used the time productively), I took a few minutes to spruce up each morning, and I at the very least pinned a little reminder of my mantra up on my desk (though a more creative sign is still pending). And you know what? Doing those things made me feel
very good
! So I'm going to try to carry that momentum through into this week's goals - or rather, this week's goal. I only have one, but it's a big one!
Last week I mentioned my mantra, Fiercely Serene. Well, I'd like that mantra to play a larger role in my life (and, possibly, a larger role on my blog as well), and I'd like to start working it in right now. As I see it, one of the best ways to adapt myself to the future I want is to find that balance between fierce and serene - so I'm going to act out those two halves daily. For now, I plan to be "fierce" by exercising my body every day this week, and "serene" by exercising my mind every day this week too.
Gym time and home exercises are pretty normal for me, but I've been taking a lot of needless "rest days" lately when I could be building my strength a little more effectively. Plus, I have tons of home fitness toys that need to be played with! I also am in need of time set aside for meditation and yoga, to maintain my emotional health. Thanks to
Spotify's Deep Focus
playlist and the beautiful items I've received from Sapphire Soul over the past few months, I'm well prepared to get back in touch with my inner self again. It's a single goal, with several facets, that will help me set true intention on a deeper level within myself. Hopefully, I can make a daily habit out of becoming Fiercely Serene!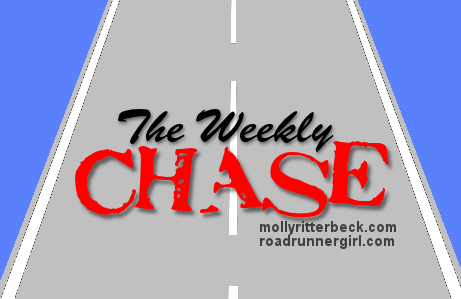 What weekly goals are YOU chasing? How well did you accomplish last week's goals? Check in with hosts
Road Runner Girl
and
Molly Ritterbeck
to see how everyone's Weekly Chase wrapped up, and how they're all moving forward in the new week!