Yup, I'm going to talk a bit about the Marine Corps Marathon again. Get used to it - I pretty much have a one-track mind these days. At least this post is going to help explain why the MCM is such a big deal to me, and the reason is simple:
bravery
.
Many times in my life, and especially in the past decade or so, I've encountered some major hurdles. At times it's been one thing after another, an onslaught of setbacks and deterrents that have fought to throw me off my path. Honestly, there have been times when those issues succeeded, and I have had to change direction or scrap a plan I'd outlined for my future. But more often than not, I have powered through and found some sort of success. Most recently, the slow deterioration of my marriage set a lot of upsetting wheels into motion - but also some very unexpected (and exciting) ones. Primary among the positives was my introduction to the world of running.
.
Though I think in many ways I have always been a little brave, running has given me stores of courage and confidence unlike any I've had before. Now that I'm a runner, I am brave enough to go after life changing things, like pursuing my dream job or running a full marathon. The steps at time have been small, but I can look back at the past two years to see miles and miles (both literally and figuratively) of progress. A few days ago as I was running, it dawned on me that only I am in control of the direction I travel. Just as I never have to stop moving forward during my running unless I want to, my life can continuously head in the right direction as long as I choose not to step backwards. Every step I take at a race or in training now is symbolic of the choice to bravely move forward.
But here's the thing about bravery: it is defined by fear. You cannot have bravery without fear, as it is moving forward
despite
being terrified that makes one brave. It was not easy to pick up and leave my awful situation last year, and I was so scared to do it. Pursing a goal no one else around you believes in is just as frightening; pouring all your resources and hopes into something meaningful but rare without support can feel like jumping off a cliff. Putting in my lottery bid for the MCM was exciting, but also terrifying, knowing how much effort and stress and dedication and sacrifice I would have to make to follow through if I was accepted into the field (not to mention loved ones who don't even think I can finish it). I did it anyway - not because the fear went away, but because I have become stronger than my fear.
I have become brave.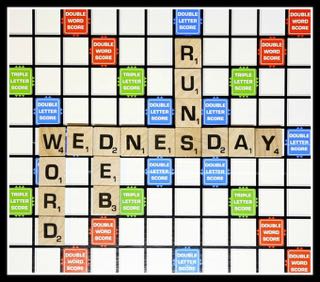 Don't forget to visit
Deb Runs
, host of this wonderful linkup, to see what other bloggers are saying about
bravery
in their lives! And check back next week for another edition of the Wednesday Word!
How have you become brave in your life? How has running helped you overcome fear or adversity?